Destination Confirmed: Qatar for The Luxury Network International Awards 2020
17th February 2020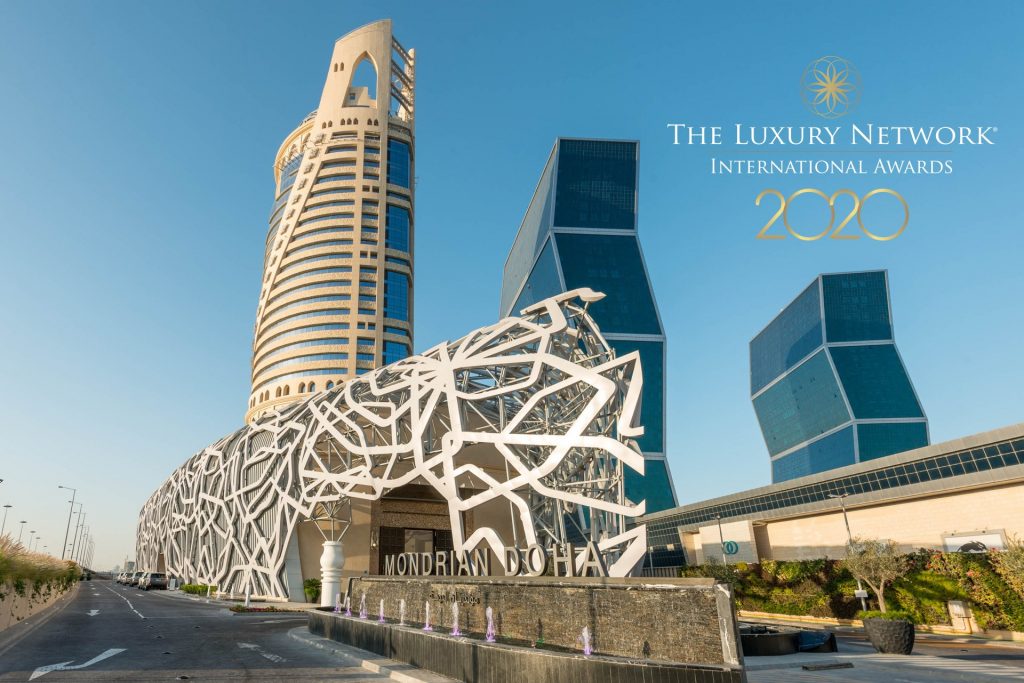 The Luxury Network International has selected Mondrian Doha to be its venue for this year's awards gala dinner.
On the evening of February 22nd, The Luxury Network International Awards 2020 will be celebrated this year in awarding the world's finest brands for their luxury products and exceptional services. This most sought-after annual occasion will be hosted at the exquisite Mondrian Doha in Qatar, where the evening will see over 300 invited VIP delegates from the world's leading brands, that will gather to be recognized on stage for their outstanding efforts.
The Luxury Network International Awards is an international awards event recognizing luxury companies and brands across all the luxury sectors for their initiatives and achievements. The global team's mission is to honour well-established companies and recognize emerging luxury brands on international and local levels, as well as to create a networking platform providing new business opportunities. This year's gala dinner will be presented by Ola Al Fares and Mohammed Al Hamadi, both are reputable personalities from the Al Jazeera channel.
For this year, The Luxury Network International Awards Charity Partner is Qatar Cancer Society and the Official Automotive Partner is Lexus, while Mondrian Doha is the exclusive Hospitality Partner.
Mondrian Doha, brings guests to a world where anything can happen, and around each corner lies another surprise. Featuring 211 bedrooms and 59 suites over 24 floors, the region's very first ESPA, and a spectacular 2000-square metre ballroom with its own 24K gold elevator, Mondrian Doha redefines lifestyle in the city. For booking ease, special room rates were graciously provided by the hotel for the busy and jet-lagged guests.
Awards selected by The Luxury Network's distinguished board of judges will be presented to luxury brands and individual achievers in over 20 categories on a country, regional, continent and global basis.
"The Luxury Network wishes felicitations to all of the award winners of the year 2020, who through their immeasurable passion and pure hard work to deliver their topnotch services, have received these honour tonight. An authentic luxury brand is not easy to achieve, it takes a dedicated team of highly trained staff willing to fail in order to learn, grow, and succeed. This is what it takes to be recognized as a bona fide The Luxury Network International Awards winner," says H.E. Fares Ghattas, Global CEO of The Luxury Network International.

Wael Maatouk, General Manager, Mondrian Doha, said: "At Mondrian Doha, our guests experience a fairytale environment and a celebration of moments, people and luxury in its pure essence. As an emerging luxury brand in Qatar ourselves, we are delighted to be the Exclusive Hospitality Partner for The Luxury Network International Awards, as it recognizes those that have made an extensive contribution to the luxury industry, and celebrates those who have continuously shown dedication and outperformed others in their field."
The gala dinner itself will be a one-of-a-kind celebration where attendees from all over the world will be welcomed by a grand red carpet entrance and will be dazzled with bubbly drinks. Fine dining will be set to perfection by the world-renowned executive chefs of Mondrian Doha, who will be preparing a decadent 3-course meal for the guests to savour while being entertained by world-class performers.
A glamorous victory party will be hosted by The Luxury Network International at RISE, which is located at the 27th floor of Mondrian Doha. With an open bar, live music and incredible city views over Doha, the guests must expect a night to remember in RISE.
The Luxury Network has vowed for the gala dinner to be an evening of affluence, celebration, and one not to be forgotten soon. For more information about the event, please email info@tlnint.com